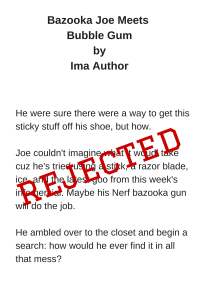 Comma, semicolon or colon, which one should I use?
Have I mixed past and present tense verbs in my story?
Do my subjects and verbs agree?
Do I have misplaced modifiers?
Aaahhh. English grammar can be infuriating and confusing. But a manuscript riddled with incorrect grammar is a sure-fire trip to File 13. What do you do to fix it?
7 ways to overcome those grammar problems.
Use MS Word's grammar check. OK, not a guarantee, but this is one trick I used to discover passive voice in my work when I first started writing fiction.

Take a class, online of offline.

Buy a grammar reference book and study it. Keep it handy and refer to it during the revision process. I use Writer's Digest Grammar Desk Reference.

Ask a friend for help. Be confident his/her skills are excellent or you might be going backwards.

Bookmark Mignon Fogarty's website Quick and Dirty Tips. Mignon's site is my go-to website on all things grammar.

Read, read, read. Learn from best selling writers by reading and studying their books.

Hire an editor. There are plenty of us out there. Interview several before you commit.
Maybe English grammar isn't your strength, but don't let that stop you from being a writer!
What is your toughest grammar issue? Do you have a resource you find especially helpful? Please share it in the comments below.