Like J.A. Marx said last month, the best way to get your book in front of a publisher is to attend writers' conferences and meet with publishing house editors. This month's debut author also landed a publisher via a writer's conference. Today, I interview Angela Meyer, author of Where Hope Starts, releasing September 14 from CrossRiver Media.
Debra: How long did it take to write your book?
Angela: The first draft took about 6 weeks. But the process from first word to publication included several edits and rewrites. That process was almost 5 years.
Debra: A draft in 6 weeks is amazing. You must have had the whole story in your head just waiting to escape. Did you get all that writing done after the kids were in bed, writing 8 hours a day, writing to a word quota for each day?
Angela: I waited for summer when we weren't homeschooling and more or less focused all day—as much as I could with kids needing this or that and taking care of my family. I didn't really count the hours, but they were full days. No word quota, just pouring out the story. I tend to "see" a whole story all at once in my head. Getting it onto paper reminds me of trying to explain a dream – a bit evasive at first, but once I start writing, it was there.
Debra: At what point in writing your book did you begin to look for publishers?
Angela: Once it had been through 4 major edits, about 3 years after starting it.
Debra: How did you choose the publishers you queried?
Angela: I actually met my publisher at the HACWN [Heart of America Christian Writer's Network] conference before I ever queried anyone.
Debra: When the publisher asked for a book proposal, what did they want the proposal to include?
Angela: I had to include a synopsis, bio, market analysis, publicity and promotion that I was willing and able to do. In some ways I think writing the proposal was harder than writing the book, especially the synopsis, condensing your full length novel to a couple of pages.
Debra: Ugh. I find market analyses time consuming and intimidating. How did you conduct your analysis and what kind of info did it include for the publisher?
Angela: I used three books as resources in writing my book proposal.
The Sell Your Novel Tool Kit by Elizabeth Lyon
Book Proposals That Sell by Terry Whalin
Formatting and Submitting Your Manuscript from Writer's Digest Books
Typically, fiction book proposals are different than nonfiction book proposals, not being quite as detailed. Each agency/publisher will have their own requirements. Some agencies, don't even ask for a market analysis with a fiction proposal. When I asked my acquisitions editor what they wanted to see when I sent in my manuscript, I cringed when she suggested Terry Whalin's book as a good resource for what they wanted. His book is geared more towards nonfiction. This meant a market analysis—what I dreaded most. I had my work cut out for me.
My first step was to revisit these resources to determine what would comprise a market/competitive analysis. Terry Whalin suggested listing half a dozen books that might be in direct competition with my book. Then to list how my book was different and distinct from these books.
I made several visits to the bookstore looking over the fiction section. I found books that fit Terry's description. Since I didn't have the time to read all these books before submitting my proposal, I put to good use my ability to skim read.
I followed the story arcs and determined where there were differences in the overall story telling. I chose 3 books and one author (with several books) to include. For each one, I first listed what was similar between our books, then how mine would be different.
Here is an example from my proposal of one of the books:
Things Left Unspoken by Eva Marie Everson deals with a wife going back to her hometown and discovering truths about her dad that challenge her view of him. While the protagonist in Unspoken needs a break from her marriage, there is no abuse or unfaithfulness involved. In the end she is reconciled to her husband. In Where Hope Starts, one of the main drives for Karen to return home is her husband's unfaithfulness and violence toward her. Her parents' secret is more of a personal nature than those in Unspoken, which are more criminal.
Debra: Thanks for such a thorough explanation, Angela. The Sell Your Novel Tool Kit resides on my bookshelf, though I confess I haven't read it yet. I happen to catch some of your blog that included your main character Karen's diary. I think it's a wonderful marketing tool and gets readers acquainted with your characters before the book releases and with the upcoming series. How did you come up with the idea for the blogging Karen's diary?
Angela: I planned to participate in the A to Z blogging challenge in April and wanted to use it as an opportunity to get the word out about my book. I had two goals: introduce the story and characters and to help my readers begin to care about these characters. I played around with different ideas and the journal was born.
I find it interesting how much I knew about my character without having to sit down and plan it all out. After spending several years in her story, knowing how she thought and what kinds of things she liked came naturally.
I didn't get as much engagement on my blog as I would have liked during the A to Z blog, but this had a lot to do with who stopped by my blog and whether they were part of my target audience or not. I plan on repurposing these blog posts and adding to the journal entries at some point in the near future in order to build more connection between my readers and the main character.
Debra: How much of the marketing of your book are you expected to handle?
Angela: When I first got started and didn't even know how to start a website, my publisher helped me by designing it. But now, I do my own design. My publisher also provides some of the promotional materials. As far as social media presence, book tours, speaking, getting it into book stores, etc. its mostly up to me. Of course, my publisher gets behind me in my efforts with encouragement and education and is more than willing to lend a hand on anything she has time or is able to do.
Debra: What were the worst and best things to deal with in the publishing process?
Angela: Waiting and marketing (the learning process) were worst. The best parts are the new friends I've made and the application of marketing.
Debra: What advice do you have for writers concerning finding and gaining a publisher?
Angela: Write your book before you start queries. Edit it – more than once. Get some beta readers or other writers to give you feedback. Make sure it is absolutely the best possible. Yet, don't get to that place where you are unwilling to hit the submit button. There will always be something that can be improved. If it is a great story and written well (and fits with their needs) a publisher will be willing to work with you to make it even better. Then go to a conference – or more than one, and meet the editors face to face. It's an opportunity to get past the slush pile. Go prepared to pitch your novel idea. When you meet with the editor, remember they are people, too and they are there because they want to find someone to publish.
Debra: What advice do you have for writers for during the process between acceptance and release?
Angela: Work HARD on building your platform. Begin work on your next project. And be patient.
Debra: I'd like to thank you, Angela, for your time, insight, and advice on the publishing world. I wish God's best for your writing career and much success for Where Hope Starts.
Readers, Angela will be available to respond to your comments for today only. If you are interested in finding out more about CrossRiver Media, visit their home page. To submit to CrossRiver, visit here.
ABOUT ANGELA D. MEYER: Angela D. Meyer lives in Omaha, NE with her husband of 22 years. They have two children whom they homeschool – recently graduating their son. Angela has taught Bible class for over 35 years and is on the leadership team of her local Christian writers group. Visit Angela's Facebook page here. Where Hope Starts is available for preorder.
ABOUT WHERE HOPE STARTS: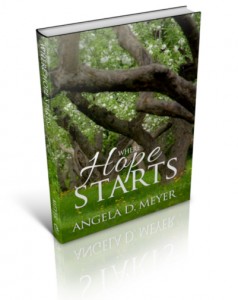 Karen Marino's marriage is falling apart. As her husband, Barry's abuse and addictions take their toll, Karen flees New York City to think through her options. She returns home to Kansas City to search for answers, but instead discovers a dark family secret and a high school sweetheart ready to pick up where they left off years ago. Still in New York, Barry tries to fix the mess he has made of his life and his marriage. But instead of making things better, his choices take him on a downward spiral that leads to emotional brokenness and the loss of his freedom. Can Karen and Barry find their way back to each other or will they walk away from the future God has for them Where Hope Starts?