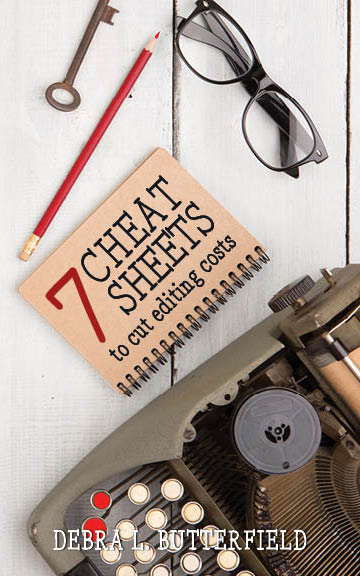 Here are 7 ways you can reduce your editing costs!
A professional edit is a smart move for all authors. In 7 Cheat Sheets to Cut Editing Costs, Debra L. Butterfield provides 7 lists to help you write a clean, well-researched book and help reduce your editing costs. Remember, for every error you fix, the editor doesn't have to, thus saving you money. Available in digital PDF format from Gumroad or print book from Amazon.
Order Now!
About the Book
Say the word editor and writers tend to weep and gnash their teeth. They'd rather have a root canal than spend money on a freelance editor.
In 7 Cheat Sheets to Cut Editing Costs, Debra L. Butterfield outlines the editing process and how writers can improve the editing of their manuscripts. The booklet covers determining your editing costs, the job of an editor, several ways the writer can help the process, and the writer's choices in those edits. The seven cheat sheets show what writers can do to reduce editing costs, including punctuation guidelines, what to italicize, how to handle numbers, POV, and more.
Available as a print book from Amazon or in digital PDF from Gumroad.
Disclosure of Material Connection: Some of the links in the page above are "affiliate links." This means if you click on the link and purchase the item, I will receive an affiliate commission. I am disclosing this in accordance with the Federal Trade Commission's
16 CFR, Part 255
: "Guides Concerning the Use of Endorsements and Testimonials in Advertising."