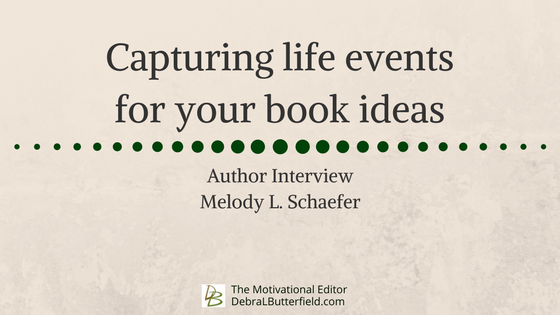 I've got children's author Melody L. Schaefer here with me today. I met Melody at my local writers group, and we've had a good time getting to know each other. Besides writing her books, she does all her own illustrating.
Melody's newest release, Penny the Parakeet and the Solar Eclipse, is the perfect example of capitalizing on life events.
A total solar eclipse happens next month, and the best place for viewing it in its totality is none other than where we each live, St. Joseph, Missouri. Here in St. Joe this event has been a topic of conversation for over a year.
Melody realized early on this was an event she could tag onto by creating a children's book for the eclipse. She also included St. Joseph tourist sites within the story and then marketed the book to various venues around town. Of course, she'll also be doing a book signing during the event.
For those families who come to St. Joseph, whether from near or far, Penny the Parakeet and Solar Eclipse will make a terrific souvenir of the trip.
What do you like to do when you're not writing?
When I'm not writing, I like playing in my flower garden and decorating my house.
Who's your favorite author? LOL, who can keep the list to just one?
My favorite author is Carolyn Haines, followed by Janet Evanovich and Nancy Martin.
If you were to live the life of any character from a book, who would it be and why?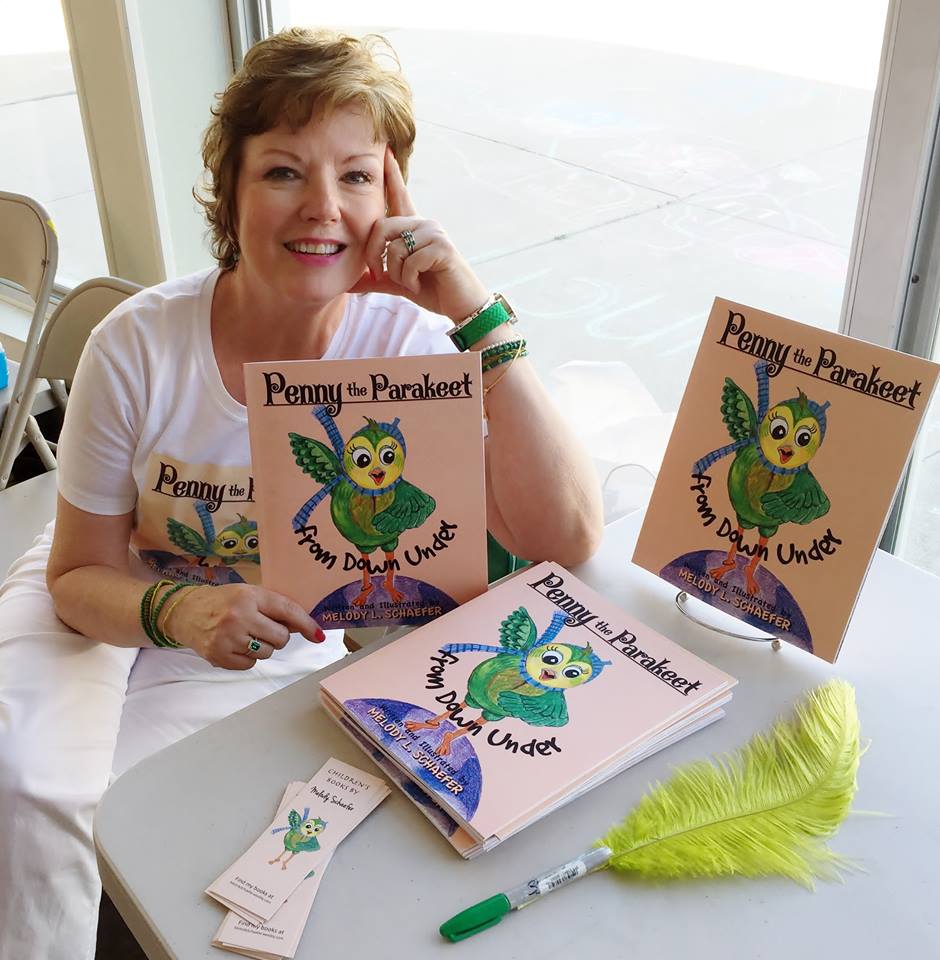 I would love to live the life of Sarah Booth Delaney in Carolyn Haines' mysteries because she lives her passions full out.
How do you keep yourself motivated to write?
I want my grandchilren to be proud to call me their grandmother, the author and illustrator. And an internal need to explore what I am capable of also keeps me motivated.
Where did the idea for your Penny the Parakeet book series come from?
The idea came from my real life parakeet, Penny.
Real life is often the impetus for ideas. Makes me wonder if your real parakeet is as fun as your fictional one. Do you have a writing schedule and a word or page count you aim for each day/week?
Writing the story always comes at the end of every day, starting around 9:00 p.m. Illustrating the story starts as soon as normal household stuff is done. Then I get to play with drawing and coloring.
What advice do you have for writers concerning finding and gaining a publisher?
Finding my publisher came as easy as reading an article in the newspaper about a woman who created her own company. I believe that wanting to write created a vibration that I sent out into the universe. That vibration found its mark in Julie Casey and sent the answer right back to me. I know that sounds crazy, but I totally believe in the law of attraction.
What did you know going into the publishing process that helped you the most?
I knew nothing about the publishing process. Like everything else in my life, I am always ready to jump off a cliff and build my wings on the way down.
I like that analogy of building your wings on the way down. Admittedly, I don't have the personality for that. What marketing strategies have you used?
Marketing the book has been a surprise for me. Who knew you had to sell it yourself? I mostly use Facebook to announce a new book, a book signing, or a book launch. I have contacted local businesses to allow me to sell my book in their shops or just to have a book signing at their business.
For example: I had Kay Klay in the East Hills Mall make book marks and a T-shirt for me. Because of that, he displays my book in his store window, which has created a lot of free advertising for me. I contacted a local antique mall, Kat & Co., to do book signings there on weekends. Not only do I announce that on Facebook, but they send out an email to all their customers when a local author will be there, me!
An antique store, that's certainly not a place I would ordinarily think of for a book signing. That's terrific outside-the-box thinking. When it comes to marketing, we've really got to allow our brains to go wild and write down all the ideas. Then we can work through them one at a time and develop a strategy.
Thanks for being here today, Melody. Best of luck with Penny the Parakeet and the Solar Eclipse. I'll see you at the eclipse next month!
Melody and I and other members of our local writers group will be at Patee Park August 19-21 signing our books. If you're here for the eclipse, come by our booth, introduce yourself, and take a look at wide variety of books our authors have written.
About Melody L. Schaefer
Melody L. Schaefer lives in St. Joseph, Missouri, with her husband, Louis, and her parakeets, Penny and Penelope. She has a son, Michael and his wife Katie…a daughter, Leah, and her husband, Andy…and 5 beloved grandchildren, who all have stories about Penny and soon to be, Penelope. What started out as pastime, became a passion.
About Penny the Parakeet and the Solar Eclipse
Join Penny as she travels to St. Joseph, Missouri, to witness the total eclipse of the sun with her new friends Aunt Mellie B and Sarah the parakeet from the French Riviera. Published by Amazing Things Press.
Available at Amazon.