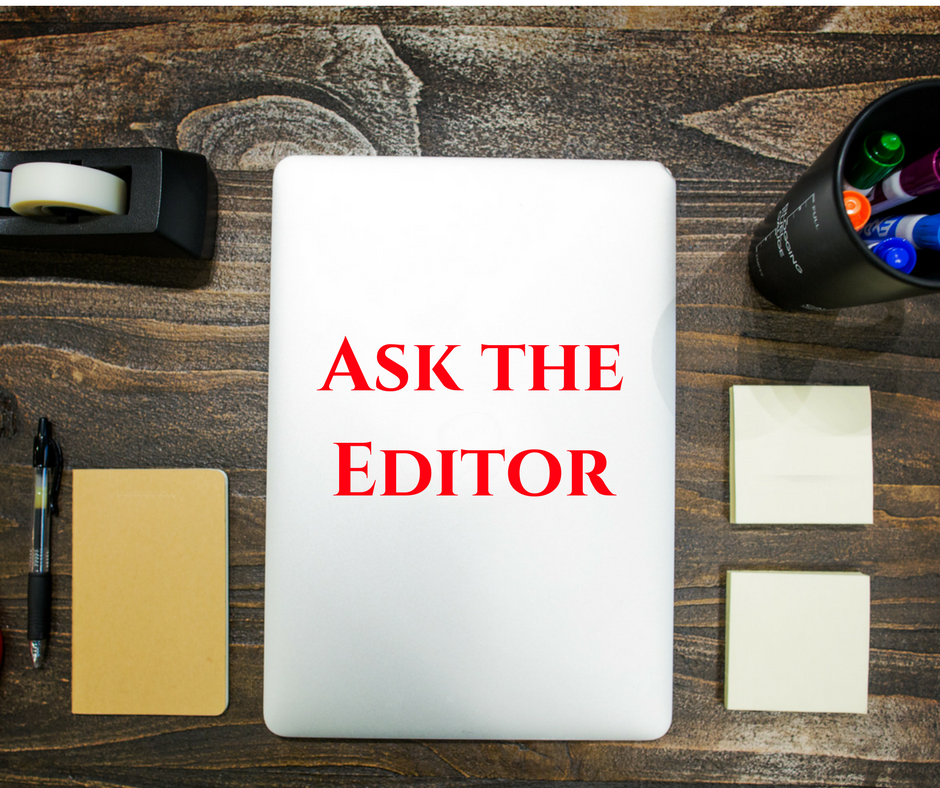 Today is part 2 of Ask the Editor and is a continuation of yesterday's questions.
What clues can help authors in knowing they have a good editor?
What a great question. Many writers may wonder about this without ever really voicing the question even to themselves. Scams are everywhere in all arenas.
My take on this would be that the editor…
Is reachable. They are an email away (or phone call) and respond with 48 hours (2 business days).
Provides a contract for the exact work to be done. Contracts protect both you and the editor.
Gives specific feedback about what's wrong with the manuscript. Some issues an editor can correct, but often only the writer can do the revisions needed. The editor needs to provide clear feedback that empowers you to revise and write a stronger book.
Offers value beyond what you've asked for, such as whether your story is a marketable idea, possible publishing houses to submit to, research websites, or even blog posts that discuss a particular problem within your manuscript.
Completes your work within the specified time frame, or communicates as soon as possible if something prohibits meeting that deadline.
Many editors offer a free edit of the first chapter. While that helps an editor evaluate your skill level, it doesn't allow an editor to determine big picture issues. If you contracted for a substantive edit and the editor says big picture issues exist and recommends a big picture edit first, ask for the editor to state what those issues are. In fact, you shouldn't have to ask. A good editor will contact you to say, these big picture issues exist, and I don't want to take your money doing a substantive edit knowing the manuscript still won't be publishable with these other errors. From that point you can renegotiate your contract or continue with what you had. Personally, I would be uncomfortable doing an edit I knew wouldn't result in a submittable manuscript.
I've had clients come to me after having another editor stating there are additional issues each time they looked at the manuscript. And of course, the price went up with each edit. To me this a sure sign of an unethical editor if not an outright scammer. There should be no surprises when the editor is finished.
What is it that editors mostly look for when submitting queries? I'm not referring to the usual criteria; I mean the unknown element like sincerity, conviction in what they have written. The hidden niche that prompts a publisher to say. Yes, this is the one!
It may seem this way, but to say there is an unknown element or hidden niche is a myth.
A publisher's main objective is to make money. They want to know you have a great idea that's marketable. Maybe you've written a book on the 50 best places to fly fish in the Mohave Desert. Certainly unique (if it truly exists), but is it marketable—how many people want to fish in that climate? If you have the inside knowledge that there is a viable market and present your idea in an attractive way (with supporting stats that prove the audience), that idea will hook the editor just like that little blue winged olive hooks a trout.
As King Solomon stated, there is nothing new under the sun. You have to provide a unique angle to your idea or present that idea as appealing to a whole new audience (the 50 best places for women to fly fish). This is more easily accomplished with nonfiction that fiction. With fiction, you need a compelling plot and a unique way to present the plot—a one sentence synopsis that grabs attention. Think elevator pitch.
An acquisitions editor may like your book, but must present that book to the acquisitions committee. The book is put through a profit and loss formula before a final decision is made. Will this book make money for us and how much?
Getting a book accepted for publication is difficult, which is why many writers want an agent. Persevere. If necessary get feedback on your proposal or a critique of your manuscript.