I wrote earlier this month about the things that drive us to write the books we do. This is especially true for author Donna Whittaker, who this month reaches a milestone of sorts,  60 years of having myasthenia gravis (pronounced my-as-theen-ee-a grav-us).
The word comes from the Greek and Latin words meaning "grave muscular weakness." The most common form of MG is a chronic autoimmune neuromuscular disorder that is characterized by fluctuating weakness of the voluntary muscle groups. It can be quite debilitating. There is no cure, and life with MG is day-to-day, never knowing how the disease will affect you that day. If often means no longer being able to do the things you enjoy. Many can no longer hold a job.
Donna was diagnosed with MG as a child in 1957. She has had a complete remission, but several crises where she was on life support. She was the editor of the Myasthenia Gravis Foundation of America newsletter for several years. She has written numerous articles on aspects of living with myasthenia gravis and was one of the first myasthenics to share her experiences by having a website devoted to living with this condition beginning in 1996.
Tell us a bit about your writing journey.
My first book was W. T. Rawleigh, His Life, His Company, and Collectibles 1889 – 1989. It was to commemorate the 100th anniversary of the Rawleigh company.
However, most of my writing has been professional articles, medical newsletter articles, and on various websites. I have always been involved in doing yearbooks, writing grant applications, computer documentation manuals, etc. My first publishing experience was as editor of our high school yearbook.
What prompted you to write your newest book?
I belong to several Facebook groups for people with myasthenia gravis. The newly diagnosed patients feel this diagnosis is the end of their world and have great difficulty accepting it and having a vision of what their lives can truly be in the future. Also several people, including young people, had lost their lives to MG and newly diagnosed patients were reading all the scary stories.
My goal was to share 25 life journeys of people who were diagnosed 25 years or more ago, but I've modified the original plan to include more on living with MG. The people come from all walks of life and corners of the United States and Portugal. I found more than 50 who had had MG over 25 years, so I will be starting a blog to share more stories.
I feel that God saved me because He wanted me to give encouragement to others with MG. I've had several crises requiring life support three times, twice in 1992 and one long one in 1993.
I have been active in MG groups in person and online since 1978 so I am in the position of knowing a lot of people who fit this criterion. Everyone I have contacted has been happy to share their experiences, as many of them went through difficult adjustment periods.
I turned 70 in January and I decided if I am going to write the stories God seems to have chosen me to share, it was time for me to get busy. I wrote my personal myasthenia gravis story for a Prodigy website in 1996. I was very active with myasthenia gravis websites while I was unable to work but since I have returned to teaching I don't have much time to sit down and write.
How did you handle interviewing people?
I have been contacting them by email. Many of them I have known for years. The Myasthenia Gravis Association in Kansas City has contacted some and provided telephone numbers and/or email addresses.
They have been emailing their stories to me and I have been editing them and adding details. I will send the edited versions back to them for their final approval.
What criteria did you consider when it came to how you decided to publish (i.e. self- or indie-publishing or traditional)?
The original eBook is targeted for newly diagnosed MG patients, which is a specific limited audience. It will also be helpful for their friends and families to understand MG.
I would like to do a paperback version for nursing and other medical school libraries and distribution to myasthenia gravis support groups. However, the eBook has evolved to have many weblinks to resources so this may remain an eBook. The email address to receive a free eBook is Hope4MGLiving[at]gmail.com
This is phase one of my goals. Phase two, I would like to assemble life journeys of those with various chronic, incurable conditions that will inspire others. This one will be for a broader audience and the choice of publication may be different.
Thank you for sharing your journey with us today. Your story is a wonderful example of Romans 8:28 in action. I pray your book will minister to and uplift all who read it.
About the Author
Donna Whittaker is a lifelong reader and writer. Writing has been an important part of her employment and volunteering throughout her life. She is the author of W. T. Rawleigh, His Life, His Company, and Collectibles 1889-1989 and has made several contributions to "Young at Heart" (supplement of St. Joseph [MO] News-Press), Capper's, and St. Joseph Writers Guild anthologies.
She has a supportive family, her husband of 45 years, one daughter, and canine companions. Her volunteer activities have included not only being on the Board of Directors and various committees of myasthenia gravis organizations, but also being a Director of the Midland Empire Resources for Independent Living for ten years. She has been a speaker at local, state, and national disability conventions. She has been active in the St Joseph Writers Guild about 15 years.
Contact her via email at Hope4MGLiving@gmail.com
Visit here Blog
About the Book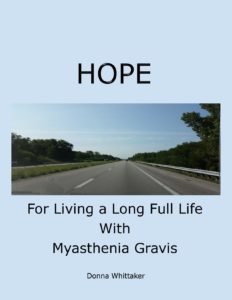 Hope for Living a Long Full Life with Myasthenia Gravis is real life stories of men and women diagnosed 25 years ago or more. Those newly diagnosed with myasthenia gravis will find hope for living with this chronic condition. Contact Donna for your free copy.