I have a delightful interview in store for you today with author Elizabeth Noyes. Bookmark this page because you're going to want to come back to her advice at all stages of your writing journey.
Imperfect Wings, published by Write Integrity Press and released August 1, 2014, is Elizabeth's first full novel. She is a contributing writer to the book A Dozen Apologies, a collaborative novel with 11 other writers.
At what point in writing your book did you begin to look for publishers?
I felt a great sense of accomplishment after finishing my Imperfect Wings manuscript and putting it through my two critique groups, but I was at a crossroads as to what to do next. Several of my critique partners encouraged me to think about publishing, but being a newbie in the industry, I had so much to learn before I could even consider approaching a publishing house.
How did you choose the publishers you queried?
I paid attention to what my friends and colleagues were reading and made note of the books that seemed similar to my work. I checked out the guest faculty at writing conferences in my area, picked out a few who were interested in my genre, researched them online, learned when and where they would be in my neck of the woods, and then made plans to attend those conferences. I made mini-appointments with them at the conferences and attended sessions they taught.
One of my dear critique partners introduced me to Tracy Ruckman, the owner and publisher of Write Integrity Press, at the Catch the Wave Conference in Atlanta last year. Her candor, honesty, and forthright answers to my questions convinced me to give her publishing house serious consideration. After much prayer and long discussions with my husband (who also happens to be my best friend, my voice of reason, and my greatest fan), I chose to go with Tracy.
I commend you for the research you did prior to choosing and attending a conference. That's terrific advice for all writers. I attended my first conference ignorant of the industry and what to expect at a conference.
Did you meet with acquisition editors via writer's conferences? If so, how did that go?
The process of meeting with a stranger to convince them of your work's quality is daunting. An author puts so much of themselves into their writing you feel rejection personally. While unpleasant, it is a natural progression if you expect to learn and grow.
I met with several acquisition editors at various conferences. Three asked for a proposal and one asked for my first three chapters. Some expressed polite interest, while others were encouraging, but disinterested. I've only had one less than cordial experience and since I was his last appointment at the end of a long two days, I'm sure he was as tired and anxious to get home as the rest of us.
We know marketing our books is a major part of what we authors do these days. How are you tackling that?
Taking a story from idea to paper, through a million edits, and then presenting what you think is a final product to your publisher is a major undertaking — but it doesn't hold a candle to the marketing requirements. All I wanted to do was write, but that's only a small piece of the published novel process. I'm learning as I go, with lots of help and advice from my professional colleagues, friends, and a savvy son and daughter.
First, I needed a web page. Praise the Lord I found Word Press for Dummies! I call it a work of art in progress because every day I'm saying, "Oh, I didn't know you could do that!"
Next, I had to become intimately knowledgeable with social media. While I don't claim to be a guru, I have somewhat mastered Facebook, LinkedIn, and Twitter. They allow me to tap into the contacts of friends, colleagues, and family to broaden my platform. Recently, I also created an email list for those who don't aspire to social media.
There are many more social media applications available, some of which I plan to tackle in the future, but these will do for now. I've also recently joined a group of authors committed to cross-promoting each other's work.
None of these efforts came quick or easy, so I encourage all aspiring authors to begin the marketing journey as early as possible. It's never too soon to begin laying a foundation.
What was the worst thing to deal with in the publishing process? What was the best?
I had a contract, the world was mine for the taking, and yet doubts persisted. What if my publisher had second thoughts? What if the editor ripped my manuscript apart? What if no one liked my book? Was I really good enough?
I didn't realize how long the contract-to-publication process takes. I was afraid to ask questions for fear of looking dumb or, worse, provoking irritation. Lots of foolish thoughts and worries fed my insecurity, needlessly as it turned out.
Tracy Ruckman is a phenomenal publisher with a heart for what she does and for her writers. Call it a God-thing or perhaps just an amazingly perceptive individual, but she always provided encouragement when I needed it most. She put my fears to rest every time, and gave me the validation I craved.
What advice do you have for writers concerning finding and gaining a publisher?
One of the questions Tracy asked me early on in the initial interview was, "What are you looking for in a publisher?" Wow. That single question provoked a lot of soul-searching. How can you know what you want in a publisher without knowing what your writing goals are? I had a passion. I had a story, and now, I had a manuscript. I wanted to see it published, but why? And what came next?
Every writer has a unique reason for doing what they do. I discovered mine was two-fold: I wanted validation from a professional source that my work was "good enough," but I also wanted to know my readers truly enjoyed my work. I can't describe the joy that comes from hearing (and seeing) a reader's response after they've read my book!
My advice? Do your homework — educate yourself, become the best writer you can be, learn about the publishing process, read up on the different publishing houses and the genres they accept, know the idiosyncrasies of acquisitions editors you want to approach and give them what they require, don't be afraid to ask for help or for information from anyone and everyone, take criticism/suggestions/critiques with an open mind and a grain of salt, and most of all, understand what compels you to take this journey.
What advice do you have for them for during the process between acceptance and release?
You chose your publisher for a reason. Likewise, they choose you for a reason. Have faith in them. They are, after all, the professionals.
Practice patience and remember that God's timing is perfect. Use the hurry-up-and-wait time productively. Work on building your marketing base and continue your writing. And don't be afraid to ask questions.
One of the questions I was asked by an acquisitions editor at a conference I attended was 'what other projects do you have planned?' Publishers want to know their writers are going to produce more than just one book. So, do you have a second book in the works? A publisher already lined up?
I am fortunate to have my 5-book series contracted, so yes, I do have a publisher lined up. Book Two of the Imperfect series is called Imperfect Trust. I've finished the first rough draft. Now I'm putting it through initial edits with my critique groups and a few select readers. I anticipate turning it over to my publisher for review by end of this year.
Five? I'm struggling to get one fiction book plotted and written, and you've got 5. Kudos! I can't imagine the organization needed to plot all those stories. I'd like to invite you to come back again and tell us how you keep it all organized.
What did you know going into this whole publishing process that helped you the most?
I listened to my peers about what to expect (and not expect) in the publishing process. I attended conference sessions and took to heart the expectations set forth by publishers and acquisitions editors. I read blogs and how-to books by well-respected members of the publishing industry to learn the etiquette. In other words, I did everything I could to prepare myself for an unfamiliar journey.
The more you know ahead of time, the less likely you'll be to run into unpleasant surprises.
One of my greatest difficulties was (and still is) receiving critical feedback. I mean, these stories are part of me — each word, turn of phrase, and scene are my babies. Cut one out? That's like asking me to remove a leg. I couldn't do it. But I did. I just found a different way — by saving the cuts to what I call my scrap pile. I now have a whole folder of edited lines and scenes waiting to be inserted into a new manuscript. It's a hard thing to do — to realize that prose may be beautiful and perfect, but not always interesting.
My advice? If more than one person expresses the same concern, there's a reason. Pay attention to what they say. Revise, rephrase, or even remove it, if necessary.
What did you learn — good and bad — through all this that you'll apply to the next time?
Protect your writing time.
When you begin the publishing journey, many demands are made on your time — edits, reviews, pictures, social media broadcasts, more edits, more reviews, cover art, interviews, bios, blogs, back-cover blurbs, more edits, signings — all while you're trying to write your next story. If you're not careful, you'll lose the connection.
I found I need large blocks of time, enough to immerse myself in the story so that I become the characters. When I'm in the zone, time doesn't exist. I forget about eating, sleeping, and pretty much everything except what's happening between my brain and my fingers. This is my passion. This is what got me to where I am. Without my writing, there is nothing to publish and even less to promote.
Discipline is the key. I established a schedule that allows me to write to my heart's content, complete with a husband-alarm to buffer me from the world and safeguard me from going overboard. This schedule allows time for family and friends, and all the necessary non-writing book stuff.
Everyone is different. Figure out what works for you and stick to it.
A husband alarm? LOL. I'm not married, but I'm sure I have more than a few readers who would like to hear more about that.
Elizabeth, thank you so much for a delightful and informative interview.
ABOUT ELIZABETH NOYES
Elizabeth Noyes resides with her husband in Snellville, Georgia, a northeast Atlanta suburb. A recent early retiree, she now writes full time, drawing on a lifetime of experiences traveling the world. She is an avid reader, a former professional business writer, and a self-professed dreamer. Her life experiences can be found in many of her stories through the characters, locales, and scenes. Connect with Elizabeth: Elizabeth [at] ElizabethNoyesWrites.com or her website http://elizabethnoyeswrites.com/
ABOUT IMPERFECT WINGS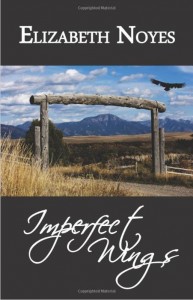 A young woman in the wrong place at the wrong time… An ex-soldier determined to finish the mission… Assassins, traitors, passions, and a deadly race against time in pursuit of justice.
Evil stalks TJ McKendrick.
Three years after burying her father, TJ visits Honduras where he died. While there, she witnesses a murder and is forced to flee.
Don Castillo dreams of power. Funnel the drugs into the States and it's his. First though, he must kill the woman who dared spy on him.
The last thing Garrett Cameron needs is another woman interrupting his life, but when the feisty vixen that put a monkey wrench in his mission two years ago shows up at his ranch running for her life — what's a man to do?
The attraction between TJ and Garrett bursts into flame in the midst of danger, a fierce desire that neither is prepared for. Her past is filled with betrayal. He's lived a life of violence, and love isn't for someone like him. Do they dare let go of past hurts and embrace a future together?
Only faith in God and trust in each other can overcome the deadly odds they face.
Available for purchase at Amazon.