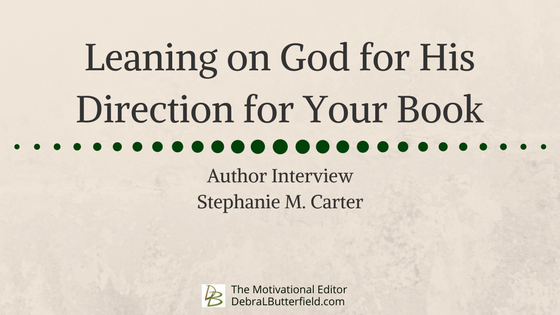 Welcome to this month's Friday Feature Author Interview. Today I'm visiting with Dr. Stephanie M. Carter. She is an author, bible teacher, ordained minister, and women's life coach of a ministry called Grace to Live Coaching. Her journey of God's direction in writing this book is inspiring.
Grab your java or tea and then let's dive in.
How do you keep yourself motivated to write?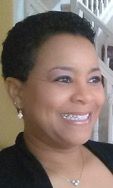 Oh this is an easy question. I write for "one." Before I had one word on paper, after God told me I would write books, He told me to write for one person: that person that my book would touch. So I write for one person. I don't worry if my books don't reach everyone or touch everyone. If it doesn't connect with someone or they don't like it, it is okay with me. That just means the book wasn't for them. That's fine. There are 7.5 billion people on the planet. It is for "someone."
Where did the idea for your book come from?
God told me to write this book. I was at my job Oct 12, 1990 at work at my desk during lunch and His presence came in the form of wind at my desk and He told me audibly "You're going to write a book." I asked, "What is it supposed to be called?" He said, "You're going to call it Tomorrow Is Not Promised. It will go all over the world. But you must write only what I tell you."
I never forgot that and thought about it everyday and tried to write many things and had to live out many things to get the words in this book. I had to learn a lot. The book was many things before this final version. It contained a lot of trial and error and lessons. I never imagined in 25 years the book would take that long and that it would contain the things it does. God is faithful to His word in my life, to His promise no matter how long it took.
Wow, I'd love to get God's direction in such a clear and tangible way. Did you ever get discouraged with the process?
I don't get discouraged with the process. I get discouraged with the tech stuff to produce the book and when computers crash. When that happens… I have a fit. A meltdown, then I get back up and work it out. LOL
I can get frustrated with the tech side as well. When I've done all I can, I get up from the computer and walk away. I give myself a break. We all need perseverance during those times.
What advice do you have for writers concerning finding and gaining a publisher?
This is hard to answer as I am still new. But listen to God first. He knows the direction you need to go and will provide what you need to get your book out there. I would like to be traditionally published and hope that will happen one day and will pursue it by any means necessary with God's help.
What did you learn—good and bad—through the publication of your book that you'll apply to the next time?
I learned to hit the save button a lot! I learned to listen to my inner voice from God and not people. I learned to not share my dream with everyone and when I do celebrate myself because no one is as excited about your dream or book as you are. I learned to not expect a lot from people concerning my dream; it is not their dream but yours…. Go for it. God will put people in your life that need to be there.
I learned I hate reading my own work over and over and that at some point you must stop editing and adding or taking away. I learned it won't be perfect in the final draft. You will have one comma missing or something misspelled. I learned I love this, being an author and want to write all day and not eat or sleep if I could.
What direction have you taken with your marketing?
Honestly, I have not learned this yet. This is one of the parts of self publishing I do not like. I would like to hire someone to handle this for me. I have been using Facebook and Twitter but it's a lot to learn.
I hear that same thing from a lot of authors. It's an arena where you have to decide whether you'd be better off hiring someone or learning it for yourself. Praying for God's direction in this area is a smart move as well.
What do you want your readers to take away from Tomorrow Is Not Promised?
That God is awesome and that you can overcome anything. You can live your dream and purpose and be empowered to live or do the impossible.
About Tomorrow Is Not Promised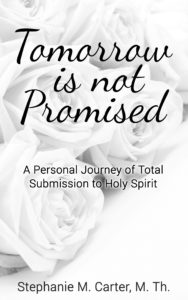 Standing in the midst of pain and rejection Stephanie M. Carter was determined to love unconditionally her covenant partner, heal, and learn that God truly is her husband and Father. If you are tired, weary, and just plain need a miracle bigger than you could imagine this is the book for you. If you need to know love that will keep you forever fulfilled this is for you. If you want to be His bride, this book is for you.
In Tomorrow Is Not Promised you will go on a journey with the Holy Spirit from a place of pain to a deeply intimate relationship with Him. Learn how God will breakthrough your darkness and bring healing to your soul.
Available at Amazon.
More about Stephanie M. Carter
She has her Doctorate in Theology from Christian Life School of Theology Global in Columbus, GA. She has two sons (22 & 16 yrs old), whom she homeschooled, and resides in the Atlanta, GA area. She loves dogs. Visit her website.  You can find all Stephanie's books on her Amazon Author page. You can also find her on Facebook and Instagram.