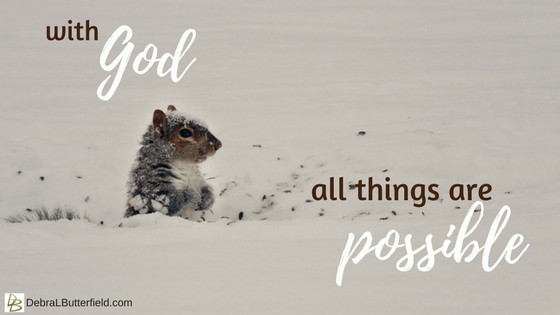 The year is drawing to a close and 2018 looms ahead. When I was a kid, 1980 seemed futuristic!
This is the time of year I usually look back through my year to see what I've accomplished and compare it to the previous year. Invariably my growth surprises me.
Perhaps you've had a bad year. Or you haven't met your goals. I understand!
Most of us have a bad day here and there, or a bad week, or sometimes even a bad month. And, yes, a bad year strikes now and then, too.
I started this year grieving the loss of my mother and recovering from a six day stint in the hospital (occurred in the same week).
March appeared on my calendar before I really felt physically back to normal. Throughout the year, issues in settling my mother's estate demanded my physical and emotional energy. In early October shingles attacked my body—eight weeks and counting of dealing with the pain.
I say all this not to garner your sympathy but to make a point: Life happens, but we have the power of the Holy Spirit residing within us to help us overcome (if we are born again Christians). And God's promises are available for us to draw on.
God has forgiven our sins, saved us from eternal death, and healed us.
"He personally carried our sins
in his body on the cross
so that we can be dead to sin
and live for what is right.
By his wounds
you are healed." (1 Peter 2:24 NLT)

"Let all that I am praise the LORD;
may I never forget the good things he does for me.
He forgives all my sins
and heals all my diseases.
He redeems me from death
and crowns me with love and tender mercies.
He fills my life with good things.
My youth is renewed like the eagle's!" (Psalm 103:2–5 NLT)
He has promised to provide for our daily physical needs (those monthly bills, a home, food, etc.).
"Those who seek the LORD shall not lack any good thing." (Psalm 34:10 NKJV)

"And this same God who takes care of me will supply all your needs from his glorious riches, which have been given to us in Christ Jesus." (Phil. 4:19 NLT)

"The Lord your God will then make you successful in everything you do." (Deut. 30:9 NLT)
Throughout the year, but more so in the past 2 months, I have been standing on these promises and envisioning them for my life. I will continue to stand on these promises until they manifest in my life. And while I'm standing I'll be thanking Him for these promises and provision.
I didn't count the days in October I was unable to work due to pain (too many), but despite it all, I brought in more income that month than any other month this year.
That is God working in my life when Satan intended to steal. God is faithful to His promises. I am getting better and better every day.
Be encouraged. We don't have to work or beg for God to send those promises or provisions. Jesus provided them all when He died on the cross. They are ours for the asking right now!
"I tell you, you can pray for anything, and if you believe that you've received it, it will be yours.
But when you are praying, first forgive anyone you are holding a grudge against, so that your Father in heaven will forgive your sins, too." (Mark 11:24–25 NLT)
As a child of God, all that heaven has to offer is yours to access. Just ask God.
If you've had a bad year, start right now speaking God's provision into your life. Believe and receive.
Below is an amazing song from Big Daddy Weave that I am sure will encourage you. Grab a hold of God's reality: All things are possible with God.