As writers, we all know how important it is to make our story as strong as possible. We also know that we each have our specific weaknesses in writing.
Maybe for you that weakness is grammar, or spelling, or passive voice.
Maybe you are too wordy.
Today, I'm going to show you how to use MS Word's readability statistics to help clean up those kinds of errors. 
I use Word 2007, so what I show you today is based on that. If you use another version of Word and aren't sure how to access these items, do a Google search on your version of Word along with the words "readability statistics."
First thing you need to do is assure that you have turned on readability statistics.
Click on the Windows circle at the very top left hand corner of Word, and then select Word Options.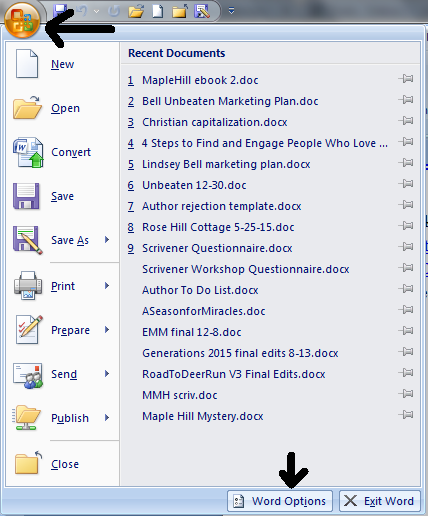 Once you select Word Options, that window comes up.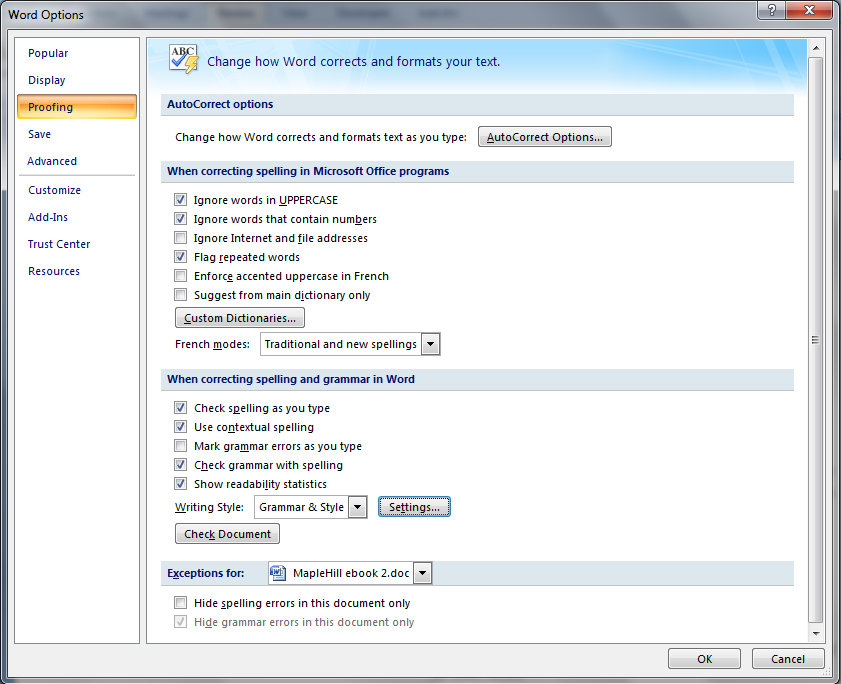 Select Proofing, and under "When correcting spelling and grammar in Word," select "check grammar with spelling" and "show readability statistics." Under Writing Style, select "Grammar and Style" from dropdown menu.
The next step is to do a spell check.
Go to your Review Tab and hit the Spelling and Grammar button.

Word will now begin to walk you through the errors in your manuscript. Please remember that Word does make mistakes! Aggravating, I know, but this tool is still very useful.
Correcting Errors
Now let's look at some errors Word found in my short story Mystery on Maple Hill.
When I first starting writing fiction, I battled passive voice. My critique partners would tell me I used passive voice and though they explained it, I couldn't quite grasp it. Using this function in Word help me to see exactly what passive voice construction looked like and where it was in my story.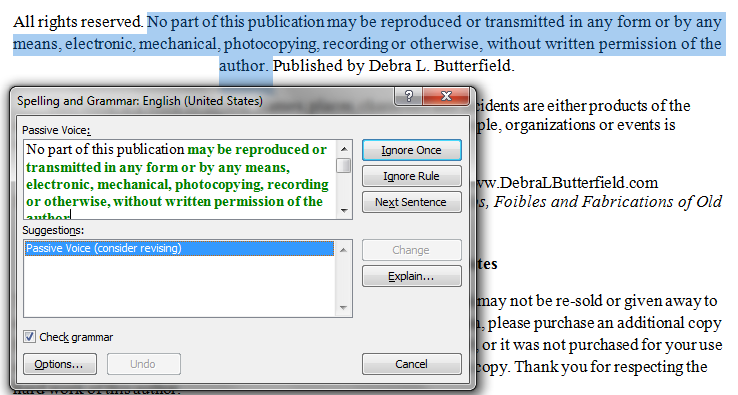 As you can see from the picture above, Word highlights in blue the sentence in the document, and also shows you that same sentence in the Spelling and Grammar window. Under Suggestions, it shows the error of Passive Voice.
To learn more about the error, click on the Explain button as seen in the above window.
This will bring up Word's help window with an explanation of the error.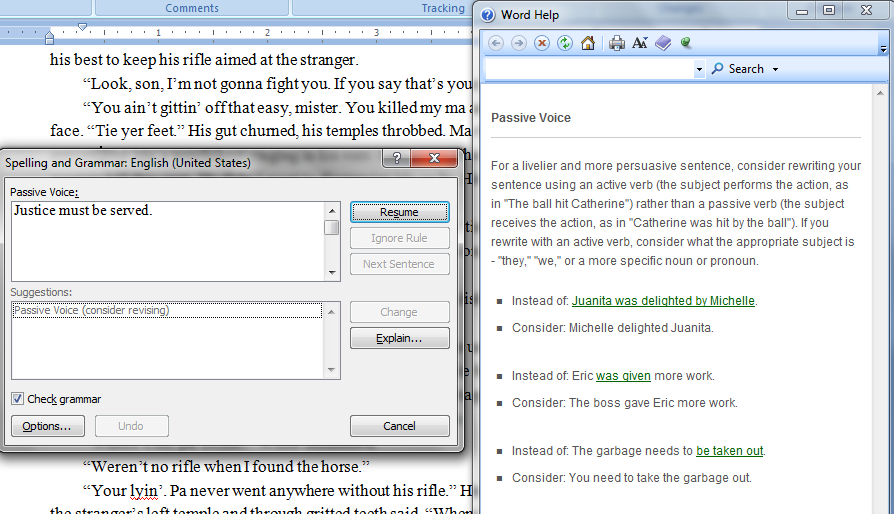 Because passive voice gives a lot of writers problems, I chose to show the explanation for that error. Note how it gives specific examples under "Instead of:" and "Consider:". The Consider option is in active voice.
Now I have the option to fix it or ignore it.
To fix a passive voice error, click in the window that shows the error and type what you want. Then hit change. Notice that within your document, the sentence changes.
On other errors, Word gives you options in the Suggestions area. Select one and hit change.
Word makes the change and then automatically moves to the next error.
Spelling is one of the most frustrating aspects of Spell Check. Do not rely on it to catch everything. Homonyms (words that sound the same, but are spelled differently) will not be flagged in a spell check.
In the picture below, Word has flagged an unfamiliar spelling. In this case, Maddie is the nickname of the woman in my story. To avoid having Word flag every occurrence of Maddie, I can click on the "Add to Dictionary" button and that word is automatically added to Word's dictionary and it won't be flagged again.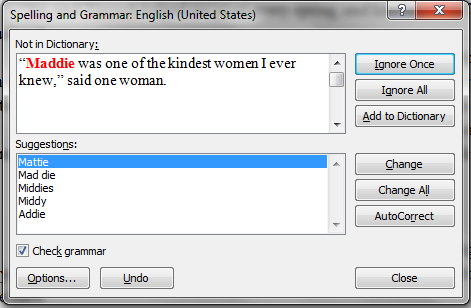 Fragments are incomplete sentences. A lot of dialog is usually in fragments because that's how we often speak. You may or may not want to correct it.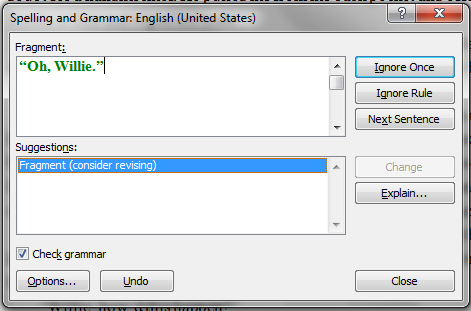 Finally getting to the readability statistics
Once you've worked your way through the spell/grammar check, you get to the readability stats.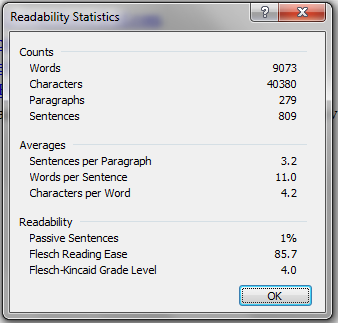 How to Read These Numbers
Counts are self-explanatory.
Averages:
These stats tell me that in this story I have an average of 3.2 sentences per paragraph, and the average sentence is 11 words long. Further the Characters per Word tells me my words are short ones.
If your stats are saying you have an average of 10+ sentences per paragraph, you have too many that are too long. Go back and examine your paragraph structure.
If the average sentence is 20+ words, you are being too wordy. If your average characters per word is 10+, you're using too many big words.
Of course, if you're writing a technical book directed to professionals in the field, those averages may be acceptable.
Reading the last section
The readability portion of these stats shows you how much passive voice is in your manuscript. You want to aim for less than 5%.
Next is the Flesch Reading Ease. This tells you how easy your story is to read. The higher the number the easier it is to read. I aim for something in the 80s when writing for adults.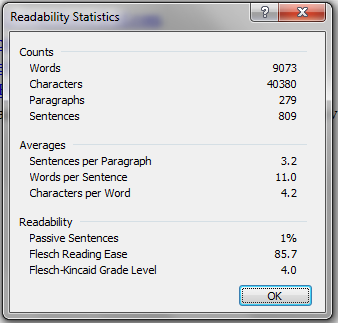 The Flesch-Kincaid Grade Level gives the reading grade level. In this case, my story reads at a fourth grade level. If you're writing for the average adult, a 12 or above will be difficult to read. If you write for children, this tool is going to be very beneficial in helping you know if you are on target for your audience's reading skills.
That's Readability Statistics. This tool can be very beneficial in helping you learn the errors you consistently make in your writing and show you how to improve.
Have a questions about readability stats? Put it in the comments below and I'll be sure to answer.
If you found this post helpful, please share via the social media icons below.
Related Articles
How to Find Overused Words in Your Manuscript
How to Fix Passive Voice
Is it ever okay to use passive voice?