Last summer I interviewed children's book author Melody Schaefer here on the blog. She was in the process of preparing for the 2017 total solar eclipse that was to occur, and St. Joseph was a major city for viewing. Using her Penny the Parakeet children's book series, Melody created a book specifically for and about the eclipse.
Today's post is a follow up to what she did and the level of success in her endeavors. I hope you can glean ideas for your own books and regional/national events that can tie into your topics.
What did you do to promote your event-oriented book Penny the Parakeet and the Solar Eclipse?
Since I highlighted and drew pictures of five historic sites in St. Joseph, I went to those places where I could speak with the managers. I asked if they would be willing to purchase some of my books to help promote themselves and the solar eclipse.
First stop was the Pony Express Museum. The manager said she didn't want to take a risk on my book and not be able to sell it after August 21. I suggested consignment. The answer was still no. But the sales clerk I talked with bought all three of my "Penny" books for her daughter. She loved them!
Second stop was the Jesse James Home Museum. The manager said no, they would not buy any or take any on consignment.
Third stop was the Remington Nature Center. They happily purchased 25 books to sell in their gift shop. Seriously? That was all the encouragement I needed!
Fourth stop was Barbosa's Castillo. They purchased 50 books to sell in their restaurants downtown and on Frederick Avenue. They were as excited as I was!
Fifth highlighted historic site was the Missouri Theater. There was no one to speak with or a gift shop in which to sell them.
Out of the 13 sites mentioned but not pictured, I went to three of them.
First stop was Patee House Museum. The manager said no, they would not buy any or take any on consignment.
Second stop was Glore Psychiatric Museum. The manager sold only 6 books on consignment. She was afraid that a children's book would not sell.
Third stop was the Albrecht-Kemper Museum of Art. They sold 15 books on consignment.
By this time, I realized the news of the solar eclipse in St. Joseph, Missouri was world wide. I needed to think bigger!
I marketed my book to five of the local hotels with no luck. They had already purchased T-shirts & solar eclipse glasses for their out of town customers.
Back in the car, I went to the St. Joseph Convention & Visitor Bureau. They sold 20 of my books. Last but not least, Nesting Goods, an adorable shop downtown that sells fares from local artists, sold 57 books from me. They would have sold more, but I ran out!
To get my name out to the parents of children, I took my book to the St Joseph Public Library. They bought four sets of three and sent a set to the other library branches.
Ellen Leinwetter, reporter with the local TV station KQ2, saw my book at the library and asked if she could come interview me at my house. Wow! That interview showed me talking with my real parakeet on my shoulder. Crazy, I know, but I do talk to Penny! It also showed me drawing Penny the Parakeet; I do all my own illustrations. That interview was on the 6:00 and 10:00 news that night, and the morning news the next day. That's when my dream of having a successful product went viral!
St. Francis Xavier Catholic Church asked me to come read to their pre-school, kindergarten, and first grade classes and come back later for a meet & greet with the parents. That was so much fun! I loved it. Then St. Paul Lutheran Church School asked me to come read to the kindergarten class.
Shockingly enough, Ellen Leinwetter from KQ2 was there to film this. Oh my gosh! You can't buy this kind of publicity! Unbelievable.
It seems everyone was interested in any books that had "solar eclipse" in the title. Because of that, Amazon sales were actually happening. All my hard work was paying off!
What did you learn through this process?
When that little idea popped into my head, I hesitated. Would anyone care about this children's book? I learned to followed my gut instinct and made sure this book was available in May, three months prior to the eclipse.
The time to sell children's books is spring. People want to put that book in a child's Easter basket. The book launch party provided by my publisher can sell a lot of books. But that book launch didn't happen until the 4th of July weekend. Sigh. I learned not to depend on events my local writers group plans to sell my books. My book sold because I was brave enough to ask for the sale.
The most important thing I learned was a book that sells needs a hook.
What will you do differently next time?
I will start marketing the book to the people at the top first. Then work my way down from there to the local places and local people. Go big or go home. Ha-ha. I should be so lucky!
Do you have another book releasing soon?
I'm planning on it. I have a great idea for Penny the Parakeet #4. I have a few rhyming pages done, but I need to finish it. And then I need to do all the illustrations. Of course I want this to be released in spring. I'd better get busy!
ABOUT MELODY SCHAEFER
Melody L. Schaefer lives in St. Joseph, Missouri, with her husband, Louis, and her parakeets, Penny and Penelope. She has a son, Michael and his wife Katie…a daughter, Leah, and her husband, Andy…and 5 beloved grandchildren, who all have stories about Penny and soon to be, Penelope. What started out as pastime, became a passion.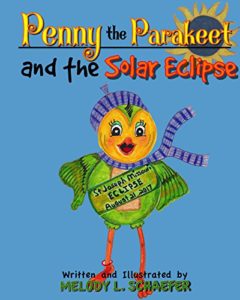 Penny the Parakeet books are available on Amazon.