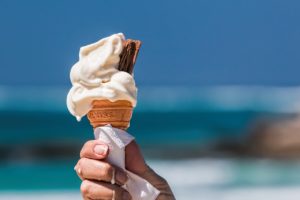 It's National Ice Cream Month. Now there's an idea I can sink my teeth into…brain freeze!
I like ice cream. My favorite flavor is Bordeaux cherry chocolate. Mmmm, heaven on earth.
But what does that have to do with writing?
I thought I'd give you some story ideas to play around with while you enjoy your ice cream and watch the fireworks (Happy 240th Birthday, USA!).
Focusing on the idea of ice cream, here are some scenarios to have fun with.
If you write romance…
Your protagonist is opening up an ice cream shop. What might happen if her romantic interest is…
The bank manager who turns down her loan?
A new employee?
Her first customer?
A customer who gets sick from eating the ice cream?
If she opens the store in Alaska, how might that affect the conflict in the story? In New Mexico? Just outside Disneyland?
If you write contemporary fiction…
Your protagonist runs an ice cream shop, but is struggling to pay the bills. Who might be the antagonist?
Bank manager?
Competitor?
Customer who gets sick?
Someone who wants to buy her out?
If you write mysteries…
A crime is committed at an ice cream shop (reminds me of that murder scene in the James Bond movie Living Daylights). Is your protagonist a witness? A suspect? Is the antagonist the store owner? Person who commits the crime? A police detective?
What conflicts could you use in any of these genres?
Lack of funds?
Freezer goes out?
Irate customers?
Contaminated ingredients?
Here's a mind map I created using Freemind to help me brainstorm the idea. I had as much fun creating the map as I did brainstorming the idea.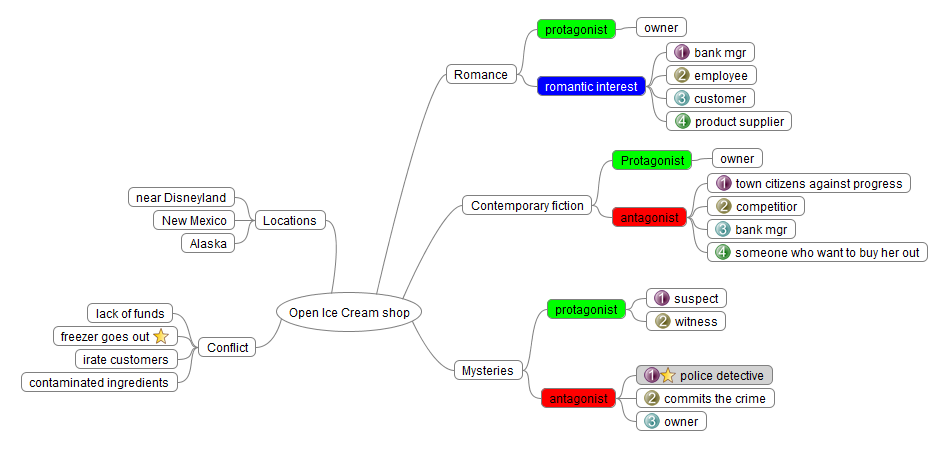 I'm brand new to mind mapping, but even my meager attempt here has convinced me mind mapping is a productive tool useful for all areas of my life. I used Freemind, a tool I learned about from author Shelley Hitz (thank you!). It's a free download.
You can see where doing an exercise such as this can help you determine whether you have a viable idea, and beyond that, help you determine the plot of your book. But don't stop there. Use mind mapping to brainstorm/plan your marketing, your book launch strategy, solve problems, and more.
I hope I've given you some food for thought (pun intended). What choices from the above options would you chose for your story? Put your answer in the comments below.
Happy writing, and have a safe July 4 celebration.