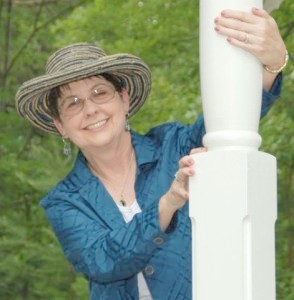 Today, I welcome back author Marie Wells Coutu. My first interview with Marie was shortly after her debut novel, For Such a Time, which won the Books of Hope contest. Thirsting for More, the second book in her Mended Vessels series was a finalist in the 2016 Selah Awards Contest and a semi-finalist in the Royal Palm Literary Awards sponsored by Florida Writers Association. You can find more about Marie and her novels on her Facebook page, at her website (MarieWellsCoutu.com), or follow her on Twitter (@mwcoutu). Now, Write Integrity Press is releasing Marie's third book in her Mended Vessels series.
According to your bio, you wrote your first book I Came from Venus when you were in the 8th grade. Did it get published? Just for fun, give us some background on how writing that book impacted your writing journey.
At that age, I had no idea how to get a book published. (Actually, I had little idea of how to write a book, except for what I liked to read.) So, no, it never got published. I think it impacted me because I knew I wanted to write—and publish—a novel some day. Through the years, I started other novels, but kept going back to nonfiction writing because I knew how to do that—and get paid for it. It wasn't until I was in my 50s that I realized I could actually learn the craft of writing fiction and finish a book.
How has your career in journalism affected your book publishing journey? Were there things you had to unlearn, things you had to learn, or both?
My journalism career helped me learn how to research, how to ask questions, and how to tell stories in narrative form, interspersing quotes from the person interviewed to keep the story flowing smoothly. In writing fiction, I had to "unlearn" writing objectively and learn how to evoke emotion, putting the reader in the character's point of view.
I think learning to write fiction actually helped my nonfiction writing because I began to focus more on descriptive writing and evoking those emotions in the readers. By that time, I wasn't reporting as much as I was sharing human interest stories.
Your debut book won the Books of Hope contest. Congratulations! If that were me, I would be constantly telling myself I have to write an even better book than the first one. That would probably paralyze me from being able to write at all.
Has winning an award with your debut novel impacted your subsequent fiction writing?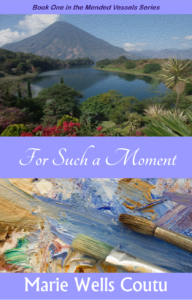 Winning that award and subsequent ones encourages me that "I can do this." It helps me realize that God has given me the gift of being able to tell stories that impact people's lives. But yes, it also makes me want to make each book better than the previous ones. I never want to get to the point that I think I have it made, because that would make me a lazy writer.
I'm constantly reading and studying the craft so I can improve. The biggest help to me to overcome that tendency to get lazy or discouraged has been having an accountability/encouragement partner. We meet weekly (via Skype) to share our struggles, prayer needs, the story we're working on, and to talk about ways to improve our writing.
Writing is such a solitary activity; I would never have thought of having an accountability partner. Great idea!
Tell us about the overarching theme of your Mended Vessels series.
The series is called Mended Vessels to emphasize that each one of us is broken, but we can be mended through Jesus Christ. And God can use a mended vessel to accomplish His purposes. Each book is based on a biblical woman who overcame her past, with God's help, and became a valuable instrument in fulfilling His plan for the world.
What are the themes of each book of the series and why did you pick those themes?
The first book, For Such a Moment, is based on Queen Esther. I started with her because I love her story. As I looked at the biblical story and developed my character, the theme became one of overcoming fear and being willing to risk everything in order to do what is right.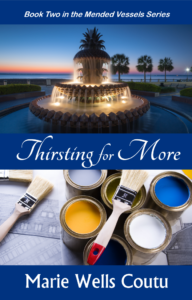 Thirsting for More, the second book, deals with finding satisfaction in Jesus, not in other people, career, or lifestyle. I know several people who are like the Samaritan woman at the well, bouncing from relationship to relationship but never finding happiness because they are looking in the wrong place. My prayer is that someone like that reads my book and realizes where true happiness is found.
The third book in the series, which released Feb 21, is The Secret Heart. Based on the situation of Bathsheba and David, the theme easily became the damage that secrets, even a shared secret, can do to a relationship. Even after repenting and being forgiven by God, hiding your past sin prevents you from being open with others and with God, and limits your ability to trust.
Book series are popular with readers and publishers. How do you plot out your series so you have the right characters and clues in the right places for the sequels?
The books in the Mended Vessels series are actually stand-alone. They are a series in the sense that each book is based on a biblical woman who found purpose in God's kingdom in spite of her brokenness. As such, I have no characters or plots that carry over, so I haven't had to worry about that!
I do seem to always struggle with the time lines of each book. I use an Excel spreadsheet and a calendar to sort out when the various scenes happen, so that I'm clear about holidays like Christmas or major events in the book. If I don't do that, I might have my characters going to work on a Sunday or a holiday!
When there's a "ticking time bomb," it's critical that the important scenes happen at the right time. Although my books are not thrillers with real bombs, each book seems to have a specific key deadline: purchase of a banana plantation in For Such a Moment, renovation of an old house in Thirsting for More in time for a house tour; and a gubernatorial election in The Secret Heart. Deadlines like that help to keep the reader engaged, I think, and give the character motivation to accomplish her goals on time.
The Mended Vessels series is getting added to my want to purchase list! They sound amazing, and I pray each book touches readers deep within their souls. Making a difference in the lives of our readers is why many of us write.
Thank you for being here today, Marie, and sharing with my readers. I pray success for each book and those you have yet to write.
ABOUT MARIE WELLS COUTU
Marie began telling stories soon after she learned to talk. At age seven, she convinced neighborhood kids to perform a play she had written. She wrote her first book, "I Came from Venus," in eighth grade, but studied journalism in college. After a career writing for newspapers, magazines, governments, and nonprofits, she returned to her first love—writing fiction—at the age of fifty-five. For Such a Moment, winner of the Books of Hope contest, is her debut novel. Recently retired from the Billy Graham Evangelistic Association, she and her husband now divide their time between Florida and Iowa, where they can be closer to their two children and four grandchildren.
ABOUT THE SECRET HEART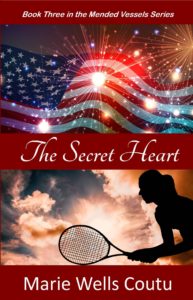 Truth is messy. But will their shared secret destroy his political career—or sabotage their marriage?
After a whirlwind romance, beautiful Shawna Moore marries Hunter Wilson, the governor of Tennessee. Now, she wonders if the governor ever loved her or only hoped to avoid a scandal.
In this modern re-imagining of the biblical story of Bathsheba and King David, an investigative reporter is asking questions—the wedding took place only six weeks following the death of Shawna's first husband in Iraq. If the reporter discovers the truth about Shawna's baby, Hunter's chances for reelection, as well as Shawna's reputation, will be ruined.
But keeping their secret is destroying their marriage.
Will Hunter's choice mean the end of his political career or his family?
Releases Feb. 21. The Secret Heart is be available for pre-order. For a sneak peek, download the first chapter here.