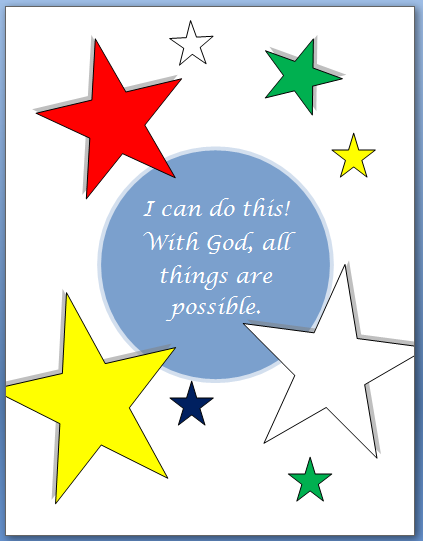 You want to get published.
You want to get your book to the best seller lists.
Maybe you'd just like to see your book sales adding up and receive a decent royalty check every month.
But it isn't happening. Instead you find yourself in a daily battle with the big D—discouragement.
So what do you do? I'm well acquainted with the emotion and have developed a few weapons to wield…
When Discouragement Bares Its Teeth
Christ spent 40 days and nights fasting in the desert. (See Matthew 4:1-11 for the full story.) At the end of the 40 days, Satan came to tempt him. Jesus refuted each of Satan's temptations by quoting specific verses from the Bible.
We can learn from Jesus' example here. Our greatest weapon in any battle is the Word of God.
"Fear not, for I am with you;
Be not dismayed, for I am your God.
I will strengthen you,
Yes, I will help you,
I will uphold you with My righteous right hand."
(Isaiah 41:10 NKJV)
God created each of us as a unique being and he has a purpose for us a well.
"For we are God's masterpiece. He has created us anew in Christ Jesus, so we can do the good things he planned for us long ago. (Eph. 2:10 NLT)
Personalize verses to make them more powerful for you:
For I am God's masterpiece. He created me anew in Christ Jesus, so I can do the good things he planned for me long ago. (paraphrased, Eph. 2:10 NLT)
"You [God] guide me with your counsel, leading me to a glorious destiny." (Psalm 73:24 NLT)
God has given me a gift from his great variety of spiritual gifts. I will use my gift well to serve others. (paraphrased, 1 Peter 4:10 NLT)
He says we believers will prosper in all we do:
"They are like trees planted along the riverbank,
bearing fruit each season.
Their leaves never wither,
and they prosper in all they do." (Psalm 1:3 NLT)
7 Ways to Overcome Discouragement
Recognize discouragement for what it is: a fiery dart from Satan. Use your shield of faith to protect yourself. You have authority over the powers of darkness. Stop to pray and bind the spirit of discouragement.
Learn how to encourage yourself.
Write specific verses you can access whenever you need them to encourage you.
Form a prayer team, people who are willing to pray for you and your work as a writer. Let them know your prayer needs, but also tell them about your victories.
Create a poster with a verse that especially speaks to you in your situation.
Email/call a friend for a word of encouragement or prayer.
Listen to uplifting music.
God loves you and will guide you along the path he has for you.
"I will instruct you and teach you in the way you should go;
I will guide you with My eye." (Psalm 32:8 NKJV)
He will help you in getting your book written, guide you in getting it published, and show you the way to success. Persevere and have faith.
If you're willing, share your prayer request in the comments so I can pray for you.
Let me leave you with this song from Casting Crowns.