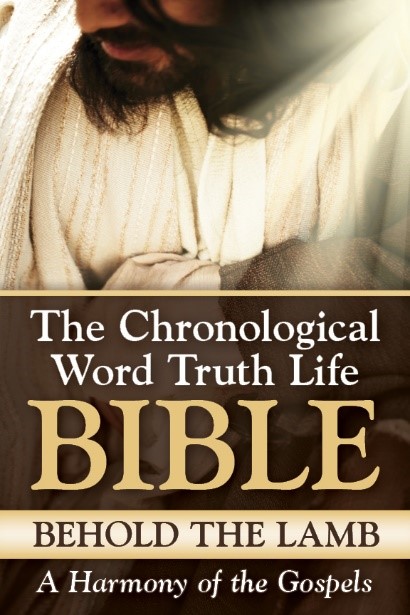 That's a bold title I've given this post, and I'm sure that most people who self-publish desire to create a quality product. But that's just not what happens all the time.
People get scammed. Or those who just don't know better put their books out there before the book is ready for publication.
But author C. Austin Tucker spent the time to learn the realities of publishing. She shares some of that with us today.
That said, it's December and we're all immersed in preparing for and celebrating Christmas. What better time to discuss Tucker's book Behold the Lamb: A Harmony of the Gospels (The Chronological Word Truth Life Bible).
I'll be the first to admit, I often get confused because the Bible jumps all around chronologically. I can't imagine the time and effort it took to write this!
If you had to choose, which would you like most? to be a bestselling author, award-winning author, or have your book made into a movie?
I'd definitely want my book made into a movie, as that's already part of my dream for my Chronological Bible series. I'm tired of biblical movies that are either high on special effects but low on biblical accuracy OR high on biblical accuracy but a dud as far as energy and excitement. I believe the biblical narrative is interesting enough so that we can have both! And since I'm already doing a chronological arrangement, it will be easy to turn the books into a screenplay.
Where did the idea for your book come from?
I had recently come back to God after an absence of many years. I was reading the Gospels and was just fascinated by all the differences and similarities between them. I started piecing the stories together into one account so that I could understand them better. I thought I was just doing it for me, but God soon let me know that I needed to publish it. Not only that, but the Gospels weren't the end. He wanted me to take on the rest of the Bible as well! So this is now developing into a series.
Last year I also published In the Beginning: Genesis to Deuteronomy, and right now I'm working on The Reign of a King: Joshua to 2 Samuel, which I hope to have done by the end of the year. I also hope to have the book of Acts done early next year.
What do you want your readers to take away from your book/s?
I want readers to understand the Bible as one complete story rather than just a collection of verses. The Bible's story is riveting and compelling; my books have, I hope, presented the Bible in a way that brings this out.
What do you do when you get discouraged with the process?
I have gotten discouraged, many times, because the project is so big, and I often feel so small and insignificant. But I try to remember that God called me and uniquely made me to complete this project. I don't want to leave this earth without fulfilling my purpose. So I let the discouragement come and I wallow in it for a bit. And then I get up and get back to work!
What did you know going into the publishing process that helped you the most?
I knew that even as a self-publisher I needed books that looked like real books. That meant the best book I could write, good covers, interior formatting, and several rounds of editing. I knew I wanted the ultimate control over all my books, so I purchased ISBNs right away. In short, I wanted my books to look authentic. But I didn't try to do everything myself.
I was willing to spend the money to create a professional end product. I hired designers for the interior and cover, and did the editing myself, since that is my profession. However, in the future I will even hire an editor, because I am too close to my own work to catch everything.
I think my mindset has paid off, because people who encounter my physical books are always impressed.
Doing what it takes to produce a quality book is important. It's easy to spot amateur book covers and worse yet, the poor quality writing found inside. That may seem harsh, but with the ease of self-publishing, poorly written books are choking the shelves. Obviously, you thought this process through from start to finish before you had a finished draft of the first book.
What did you learn—good and bad—through the publication of your book that you'll apply to the next time? Do you learn something new with each new book?
I learned that the whole process takes time, way beyond just writing the book. Authors should take that into account when planning the publication date. With my first book, it didn't matter that much because I did the Kindle version first and didn't do an official launch. But with the second book, I planned a local book release event, so I needed physical books on hand. I cut things REALLY close. My books arrived in two shipments the night before and the morning of the event! Talk about being stressed! So now I know I need to give myself at least an extra month, especially if I'm planning a live event.
What do you do when you get discouraged with the marketing process?
I do often get discouraged with the marketing process because I'm terrible at it. I'm an introvert by nature, and I hate talking about myself. I know I need to talk about my books so people will be aware of them, but I still don't do everything I should. I turn to Facebook groups and self-publishing blogs for ideas and encouragement, and for the kick in the pants that I need. I'm getting better, but still have a ways to go.
Thank you for being here today and sharing your journey. Kudos to you for tackling such a big project, but with God all things are possible!
ABOUT THE AUTHOR
C. Austin Tucker is a writer, editor, and teacher with a passion for God and his Word. She has been a Bible teacher for more than 15 years and is the founder of Route 66 Ministries, which is dedicated to helping people read and understand the Bible chronologically. She holds a Master's degree in Biblical Studies and plans to pursue a doctorate. When not writing, she's most likely indulging in old school music and sitcoms or watching superhero and time travel movies.
Learn more about C. Austin Tucker at her website or on Facebook.
ABOUT THE BOOK
When it comes to Jesus Christ, there are various presentations of him. There's the Jesus portrayed in books like the Da Vinci Code, the Jesus portrayed in various documentaries on TV, the Jesus portrayed in movies, and the Jesus portrayed in the Gospels. If you had to choose the real Jesus from a line-up, could you do so?
But how can you distinguish the real from the fake? The authentic from the counterfeit? Bankers learn to spot fake currency not by studying counterfeit money, but by studying the real thing. In the same way, the best way to know Jesus is to go directly to the source of truth: the Bible.
This chronological harmony of the Gospels presents Jesus in an engaging and clear way. Harmonies have existed for centuries, but this one is unique in its format and presentation, transforming words on paper to an encounter with the King of kings and Lord of lords.
When you step into the pages of this Bible, you will:
Read the story of Jesus in chronological order
Complete all four Gospels in half the normal time
Understand events that were previously confusing
Read the story of Jesus like a novel, without repetition
Know Jesus in a richer and more intimate way
Be equipped to introduce your unsaved friends to Jesus
Available on Amazon. At present (12-15-17) the kindle version is only 99 cents.