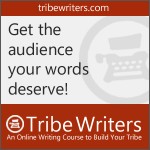 Learning new skills is an ongoing part of being a writer. One of the courses I took this year is Jeff Goins' Tribe Writers.
Tribe Writers is an eight-week course where you'll learn how to build a community and get the attention your writing deserves. You'll find more info here at the bottom of the Jeff's page.
The course includes practical curriculum, discussion forums, surprise guests, and an interactive community. Jeff is offering a lot of extra stuff (he always does because that's the kind of guy he is). Those bonuses includes his Kindle Publishing Guide and The Perfect Book Launch.
I go back to the modules whenever I want and pull out new nuggets every time (lifetime access!) This class has made a difference in my blogging and blog traffic. As I continue to apply the lessons, I know I will see my community continue to grow.
Tribe Writers can make a difference for you; I wouldn't recommend it otherwise.
Sign up closes Nov. 13, and the price goes up next year. Take advantage now. (affiliate link)